Nguyen Ngoc Tran (BP73)
.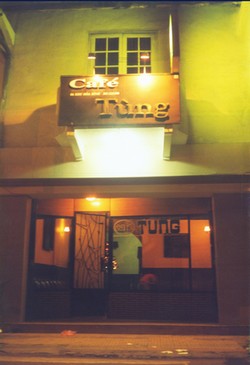 When the French discovered and developed Da Lat, they brought along with them the "coffee culture" to the city. You can find the manifestations of that "culture" in cafes of all styles locating on typically sloping roads of Da Lat. Though not too big or showy, Cafe Tung still looks outstanding among others thanks to its unique features.
Over the last 50 years, Café Tung has witnessed a lot of changes in Da Lat. However, the cafe itself seems unchanged overtime. It is still a small house standing close to the crowded Hoa Binh Square, but far way from the noisy market, with almost the same look as 50 years ago.
Like other old shops in Da Lat, Cafe Tung seems to have nothing special at first look. It's just an ordinary two-storey house with a balcony of over a meter wide emerging out from the upper floor. Inside, there are old-styled glass windows with wooden borders.
A Classical Space
The first feeling about Cafe Tung is that it is emerged in a peaceful classical atmosphere. Simply arranged, Cafe Tung is divided into two parts. The outer part is a small area with two rows of small wooden tables standing closely. Inside, there are a few tables with more space between them. All chairs are covered in brown vinyl. Some relaxing and gentle music can be heard from the sound system.
The first owner of Cafe Tung, Mr. Tran Dinh Tung, passed away in 2001. Currently, Cafe Tung is managed by Mr. Tran Dinh Thong, the second son of Mr Tung's eleven children. During an interview, Thong's younger brother, Mr Tran Dinh Thung (who lives in HCMC), has revealed interesting facts about the history of Cafe Tung.
In 1959, Mr Tran Dinh Tung and his wife Le Thi Giac decided to open a cafe in a kiosk near Ngoc Lan Movie Theater. There were under ten kiosks like that on the same street (now called Nguyen Chi Thanh). Nowadays, all those kiosks have become cafes. Cafe Tung's kiosk was located right beside the foot of the stairs that lead to Hoa Binh Square. In the kiosk, built with wood, there was a record player, the most precious asset of Café Tung at the time. Later, Cafe Tung was moved to Hoa Binh area, right beside the market.
In 1961, Mr Tung bought the current location and made it home for Café Tung. According to Mr Thung, beside cafe Tung, his mother owned another cafe named Domino. Although Domino was just a cafe for commoners, it was considered popular among coffee lovers at that time. Unlike Domino, customers of Cafe Tung were mainly intellectuals and artists.
After April 1975, Cafe Tung was closed for a few years. When reopened, it lost its name Cafe Tung and was owned and operated by a co-operative. Not until the early 1980's did Cafe Tung regain its trademarked name. And frequented by the old crowd again.
Thanks to a unique roasting and mixing method, coffee in Cafe Tung has a very special and attracting flavor.
Careful and Sophisticated
In the old days, Da Lat people were very fussy, and a lot of them loved coffee. In a freezing atmosphere with smokes flying ethereally around, they found themselves pleasantly serene when immersed in a quiet space with a warm cup of coffee.
The first owner of Cafe Tung took great care in making coffee. He used to select the coffee beans himself, only buying properly ripe beans. In his experience, coffee made from unripe beans would bear an acrid taste. The selected beans then would be incubated for two years. After they were eaten by termites ( ?), Mr Tung took them out, roasted them and mixed them with a French butter brand named Bretel and rum, both imported from France, before grinding. Only after all those steps could the coffee be truly delicious.
Because this method is too sophisticated and costly, people don't use it any more. However, Ms Tran Thi Thanh My, Thung's younger sister, is still making coffee in this way. That's because she wants to preserve her father's traditional method. She just modifies it a little by using other kinds of butter and rum.
Delicious coffee is an unseparable "element" of a special cafe. However, with Cafe Tung, there is another factor that distinguishes it from all other cafes. This factor, you cannot see, cannot touch, just can feel it with your soul. That is the artistic character of the boss.
According to Mr Thung, his father was very artistic although he never had any artistic creation of his own. Mr Thung added that had his father wanted to make more money, he could easily sell his ground coffee to other cities over the country. But he just wanted to make coffee for his own cafe.
Cafe Tung used to play songs that were very popular in 1960s-1970s, from France's Christophe, Adamo, Françoise Hardy to Britain's The Beatles and The Rolling Stone. Those days, Mr Tung ordered the vinyl records directly from France, so he always got the latest ones.
Customers could also enjoy Trinh Cong Son's and Ngo Thuy Mien's songs, or instrumental and symphonic music there.
Nowadays, Café Tung still plays music of the old days, but from CDs, because there is no gramophone record anymore. They also play modern music, which still is in a gentle and relaxing style.
Still a Rendez-vous
In the cafe, there is a reproduction of Picasso's paintings. This copy was made by a painter in 1962. Those days, people liked only small-scaled paintings. And because this copy is large-scaled, it was really hard for the painter to find a buyer. Thung said his father decided to help the artist by buying it.
Cafe Tung is very popular among artists. In many writings about Trinh Cong Son, a talented composer, you can find pages that mentioned Cafe Tung. That's because when Son was teaching in Lam Dong, he often visited the cafe. And he always chose the table opposite to the counter desk intentionally, so it was taken for granted that that table was only for him. Also, Cafe Tung was the place where Son and Khanh Ly (a singer) often met when they were still obscure artists.
Beside Trinh Cong Son and Khanh Ly, other well-known artists such as painters Dinh Cuong and Nhu Y… also visited Cafe Tung quite frequently. Nowadays, Cafe Tung is still a favourite place among artists. At any time, you can see photographer MPK, Ly Hoang Long or sculptor Pham Van Hang… enjoying a cup of coffee there.
Da Lat people in the old days often chose Cafe Tung when they needed a place for conversation, or simply for gossiping with friends. That was a place where syntonized ( ?) souls meet. Cafe Tung was also a cultural rendez-vous, where one could get back the spans of time lost in the hurried life. Sometimes people came here just to find an old seat, old music or memory. In such atmosphere, time seemed to stop, and everything seemed to unchanging.
Nowadays, the new owner is trying his best to preserve the original space of the cafe. Thung told us that servers in the past were all in their forties or older, and they always wore white shirts with black bows. Servers of that age, in Mr Tung's view, always took great responsibility in their work and therefore customers would always feel respected. Everything in the cafe was always kept clean and tidy. Today, most servers are members of the family, yet they are very polite and respectful.
That special "coffee culture" space is perhaps the main reason why Cafe Tung is still a favourite place for those who love coffee, Da Lat, as well as peaceful feelings.
By Ngoc Tran